17 min read
10 WBS Project Management Tools
Ivana Vnučec Posted on February 6, 2023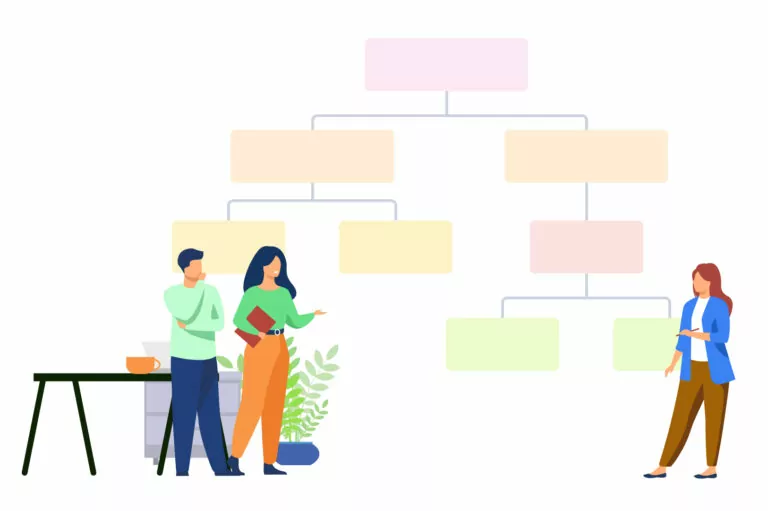 Which project management tools have WBS? Or, we often get a question "WBS stands for which project management tool?
Theoretically speaking, WBS stands for Work Breakdown Structure which is a way of project decomposition. It is known for visualizing project hierarchy and a clear picture of the overall project. Therefore, the WBS is one of many features that free project management software can contain. And one of many features that some tools still don't contain (ClickUp, Jira, Monday).
What are the benefits of work breakdown structure?
Four key benefits of creating a WBS chart are:
1. WBS helps you to see big picture
When you decompose your project, you do it from high level tasks to lower level tasks and subtasks. That way, you are creating hierarchy. In later phases of projects, when you will work on a specific subtask, with the help of WBS you can know in every moment where this subtask belongs.
2. WBS makes the team to create detailed steps
When you are creating WBS in the planning phase of the project, you will need to create high level tasks or epics, but also mid and low level tasks and subtasks. That forces team members and customers to delineate steps required for delivering the product. The process of creating a WBS itself encourages communication, brings out assumptions, narrows the project scope and shows critical issues.
3. WBS contributes to creating schedule and budget
When you create a structure of high level and low level tasks, you can make schedules easier. A well-defined WBS enables resources to be allocated to specific tasks, and helps in generating a meaningful schedule. Eventually, when you have a schedule and resources clear, you can calculate a reliable budget easier.
4. WBS improves accountability
When you make a WBS, not only that you create a clear hierarchy with tasks and subtasks, but you also assign tasks to team members. When the dependencies between low and high level tasks are clear, and their assignees are visible, it creates accountability. Well-defined WBS decrease possibilities for team members to hide under the "cover of broadness."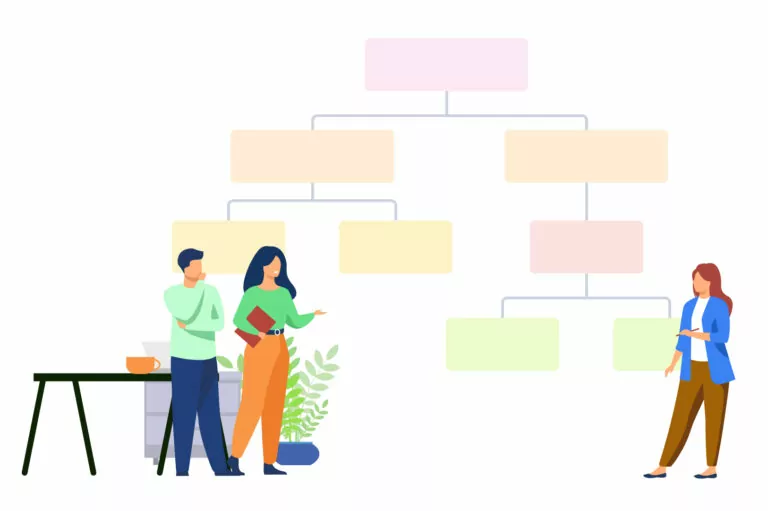 With this in mind, you could agree that providing WBS inside of the tool is an important criteria for software selection. It gives you a view of the big picture no matter what project phase you're in.
But, how do you know which project management tools that have WBS is the best for you? The right WBS software takes away uncertainty and stress about software development. So, we prepared an overview of the best tools you can use to handle your projects much easier than before. Have a look!
LucidChart is a tool that helps you to make your diagrams and flowcharts. The purpose of this app is to give you visual data so you can communicate your project plans easier. One cool thing it also gives you is – a wide range of templates for colorful diagrams.
So, Lucidchard is a great solution for making diagrams and flowcharts. However, it is not a project management tool itself. It integrates with project management software like Asana and Jira. Other integrations you can use to relate your charts to are Microsoft Office 365, Slack, Google Drive, OneDrive, Zapier, and others.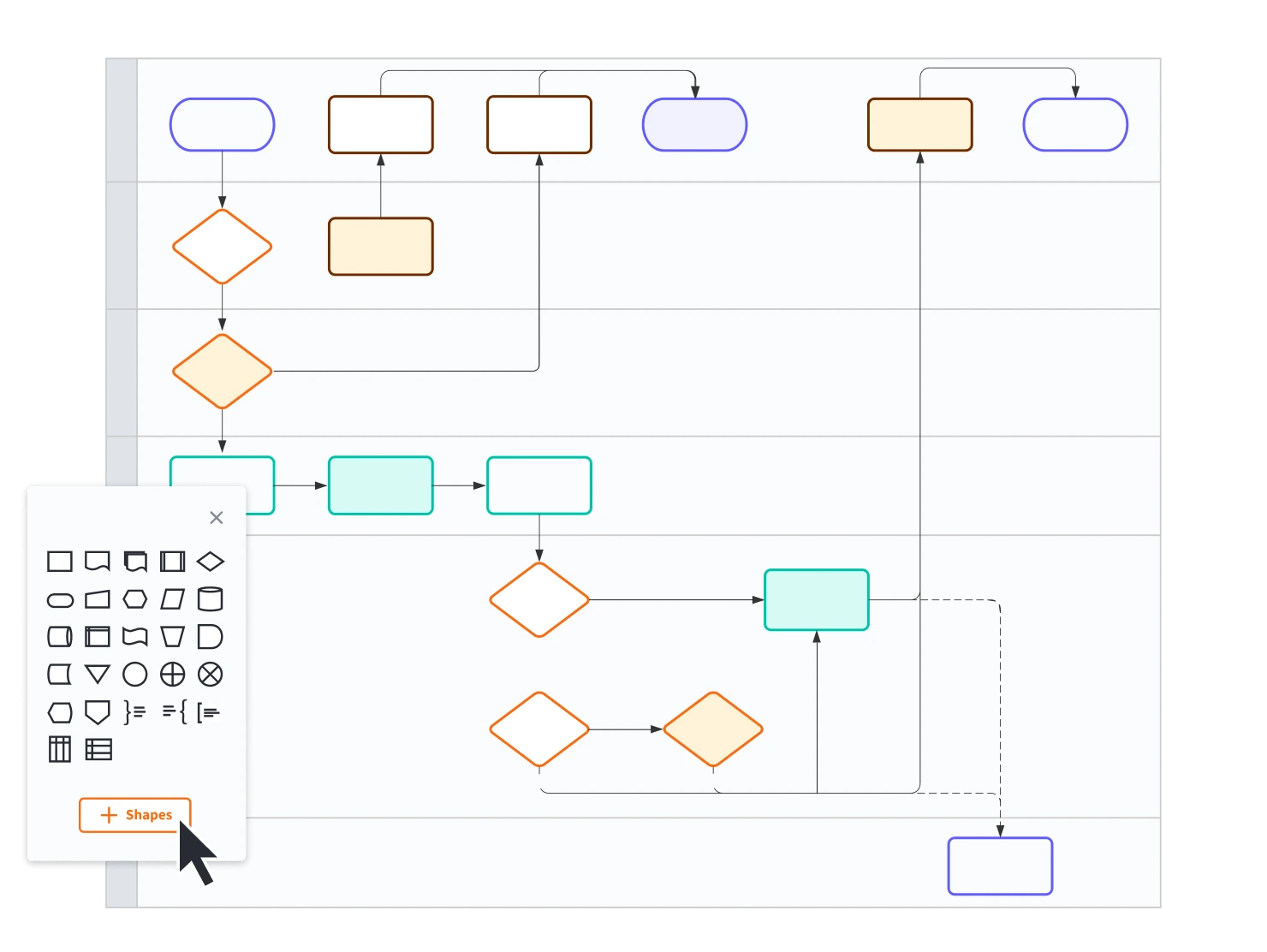 Lucidchart Pros and Cons
We learners users reviews of Lucidchart on Trust Radius and shorten them in following: Pros of Lucidchard
Intuitive and easy to use
Sharing the charts with others
Easy updates to existing diagrams
Cons of Lucidchard
Issues with text sizing and diagram sizing at more team members views
Not many templates for project management
Loading time and responsiveness have struggles
Doesn't provide comments
Edraw Max is a diagramming software that offers a wide range of visualizing tools. It has only semi-yearly ($69), yearly ($99), and lifetime plans ($225).
In the price is also included an extensive gallery of templates that makes it useful for users new to diagramming software. Flowcharts, workflows, and business diagrams are some of 280 types of chart examples that you can create with this app.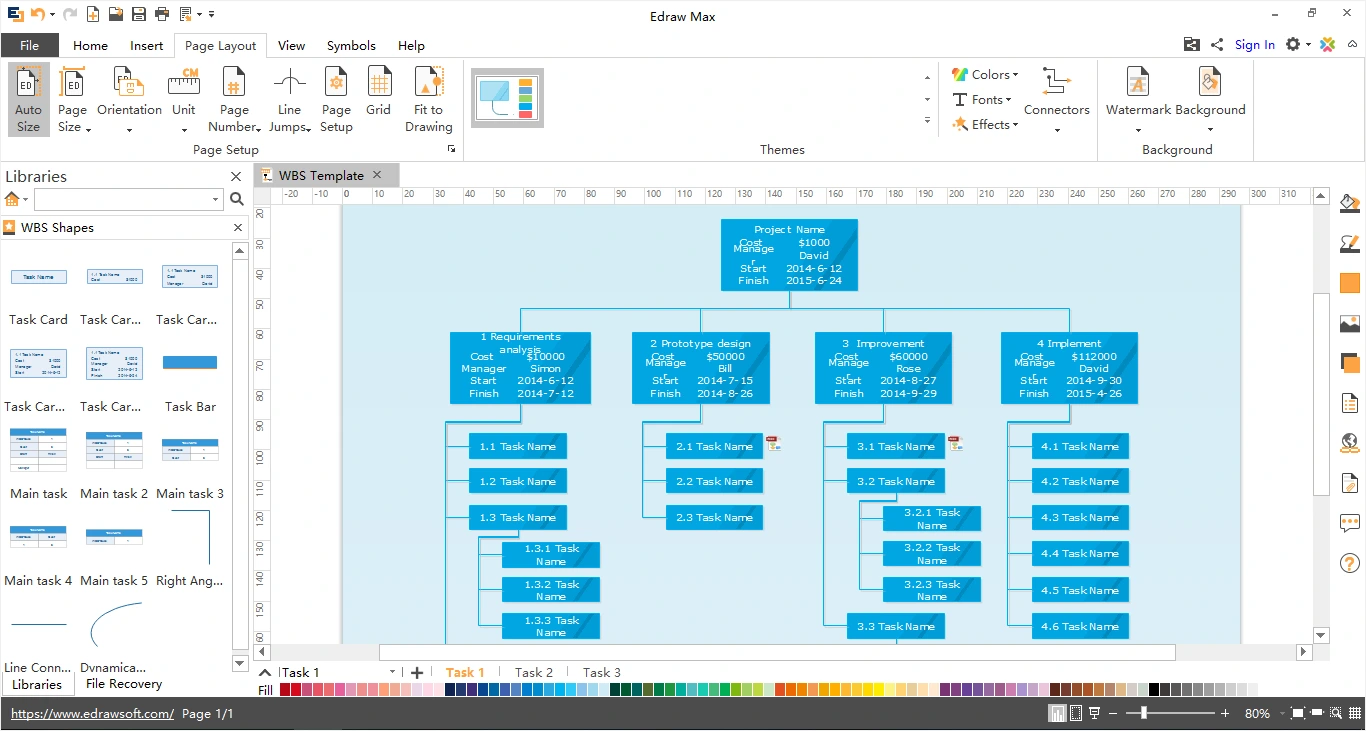 A Creately tool is a diagramming software that enables you to create your own visual data. It provides a lot of colorful flowchart templates. Even though this feature here is not called WBS, you can adjust your flowchart to look more like WBS.
Creately offers special features available for educators, human resource professionals, marketing professionals together with product and engineering team members. It is a beautiful app to collaborate with your team and create extra value for your projects.
Even though the charts look advanced, this is not a project management tool and for complete managing the IT projects, you will probably need one more tool.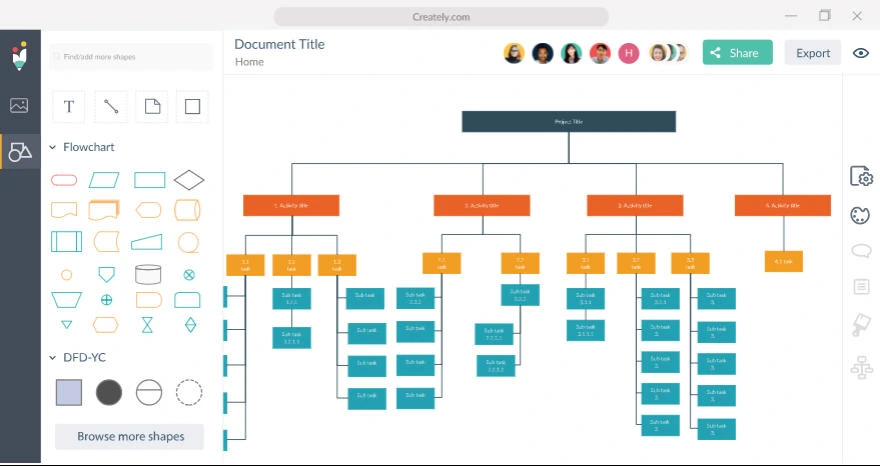 Plan Hammer is a project management software that very clearly shows its WBS feature. Together with the Gantt chart, Raci chart, Agile board, risk log tool, and to-do list, you can easily stop WBS as well.
Moreover, WBS automatically updates with the rest of the project, just like in JadeALM.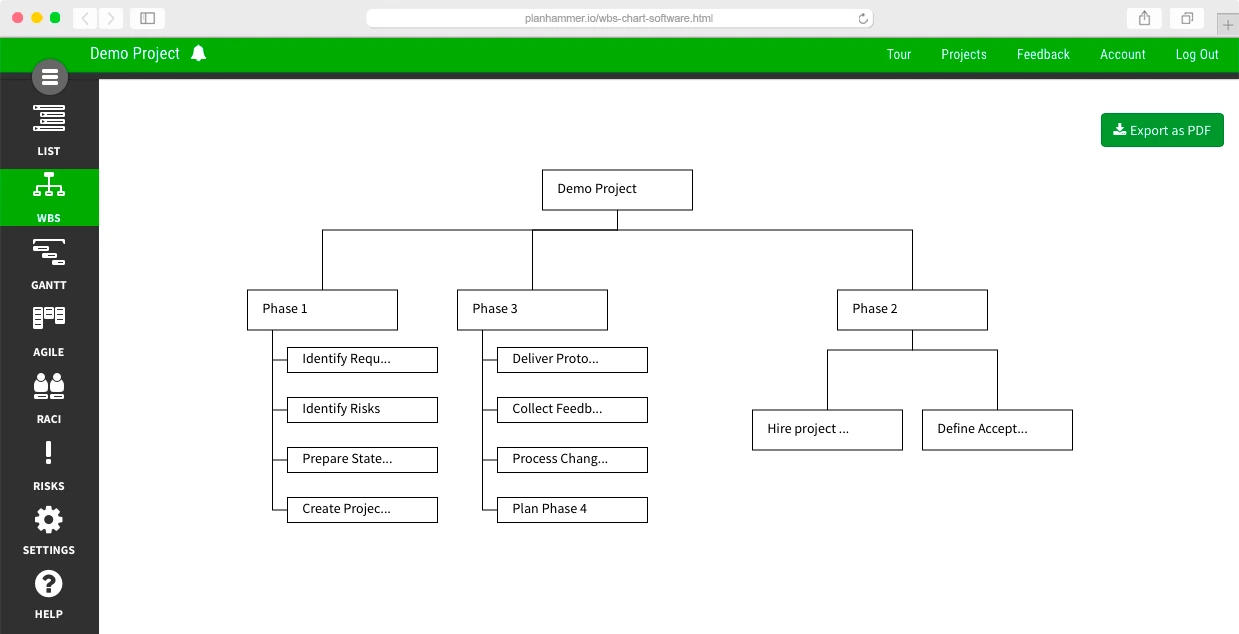 The focus of Plan Hammer, just like JadeALM, is the big picture. It even has the green color on the website – like JadeALM. Many things about Plan Hammer could remind you of JadeALM, including its green website. Luckily, pricing is different.
Plan Hammer doesn't offer a free plan. and a plan that includes unlimited members in Plan Hammer is 100$.
Praxie is software that calls its ability to break down the project into smaller tasks differently. With Praxie, WBS is defined as Requirements Breakdown Structure. Both of the definitions have the same functionality in the tool – to break down the information into manageable tasks.
Pixie offers templates and input forms so you can immediately start writing down your requirements. Other than the ability to create your own WBS or RBS (Requirements Breakdown Structure) it offers you progress dashboards. It is also possible to integrate your data from other SaaS software or existing documents.
In conclusion, Pixie helps you with visualizing your data from project management, but it is not the only tool you will need for IT projects.
Cacoo is software for visualizing data. Basically what it does is help you to create nice charts and visual data out of your written data. Now, the thing with Cocoo is that it doesn't have WBS like the other tools. Instead, it offers a flowchart for similar purposes.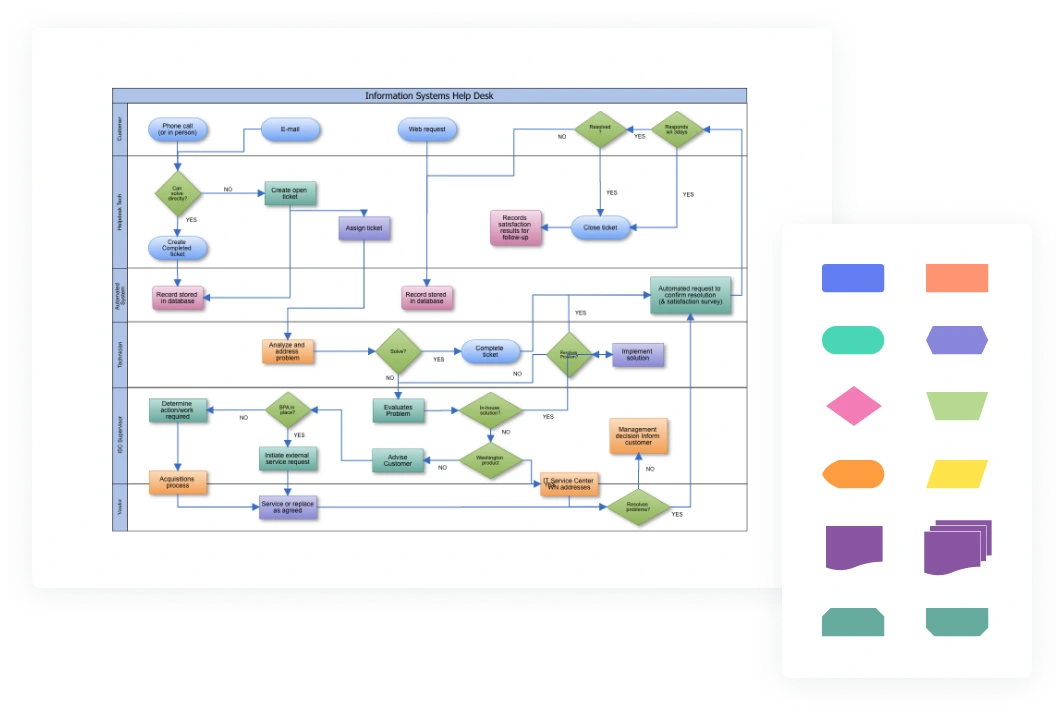 From the flowchart, you can create parts and graphics that look like WBS.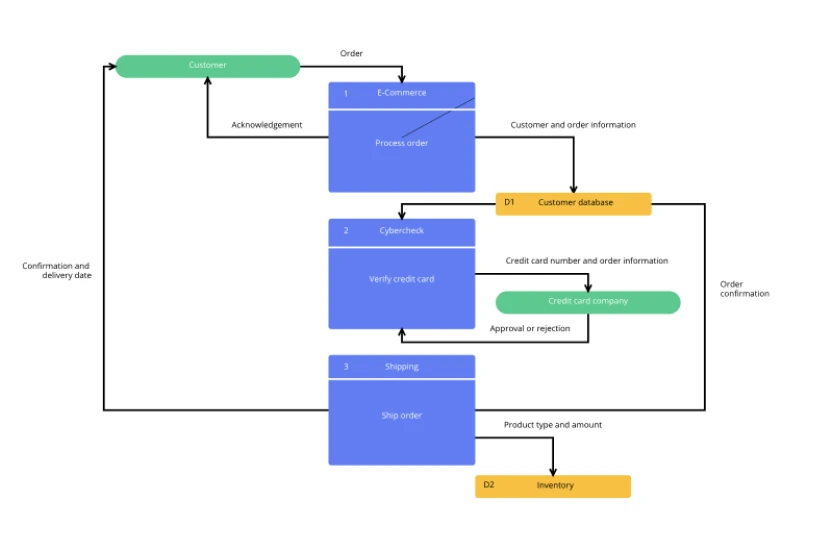 It's a SaaS app that enables the collaboration team to create diagrams in real-time. Maybe the most important thing that differs Cocoo from the other visualizing tools is that it eagles to share feedback, comments, and even video communication.
Real-time communication and editing make the progress flow easier and less painful. Other than that, a lot of various templates for creating wireframes and mockups for development projects also help with easier progress.
You can integrate it with other tools such as Google Drive, Atlassian Confluence, Typetalk, AWS, Adobe Creative Cloud, Dropbox, Slack, OneDrive, Zapier, and a few more.
There is a lot of projects that have a feature to track project hierarchy. That is why they could say they can break down the project data into smaller tasks. However, they don't have exact WBS chart functionality. One of these tools is OpenProject.
Even though you can track visualization of the project with Kanban board, scrum, and timeline, there is no hierarchy for each task. Instead, OpenProejct has a hierarchy for the overall project.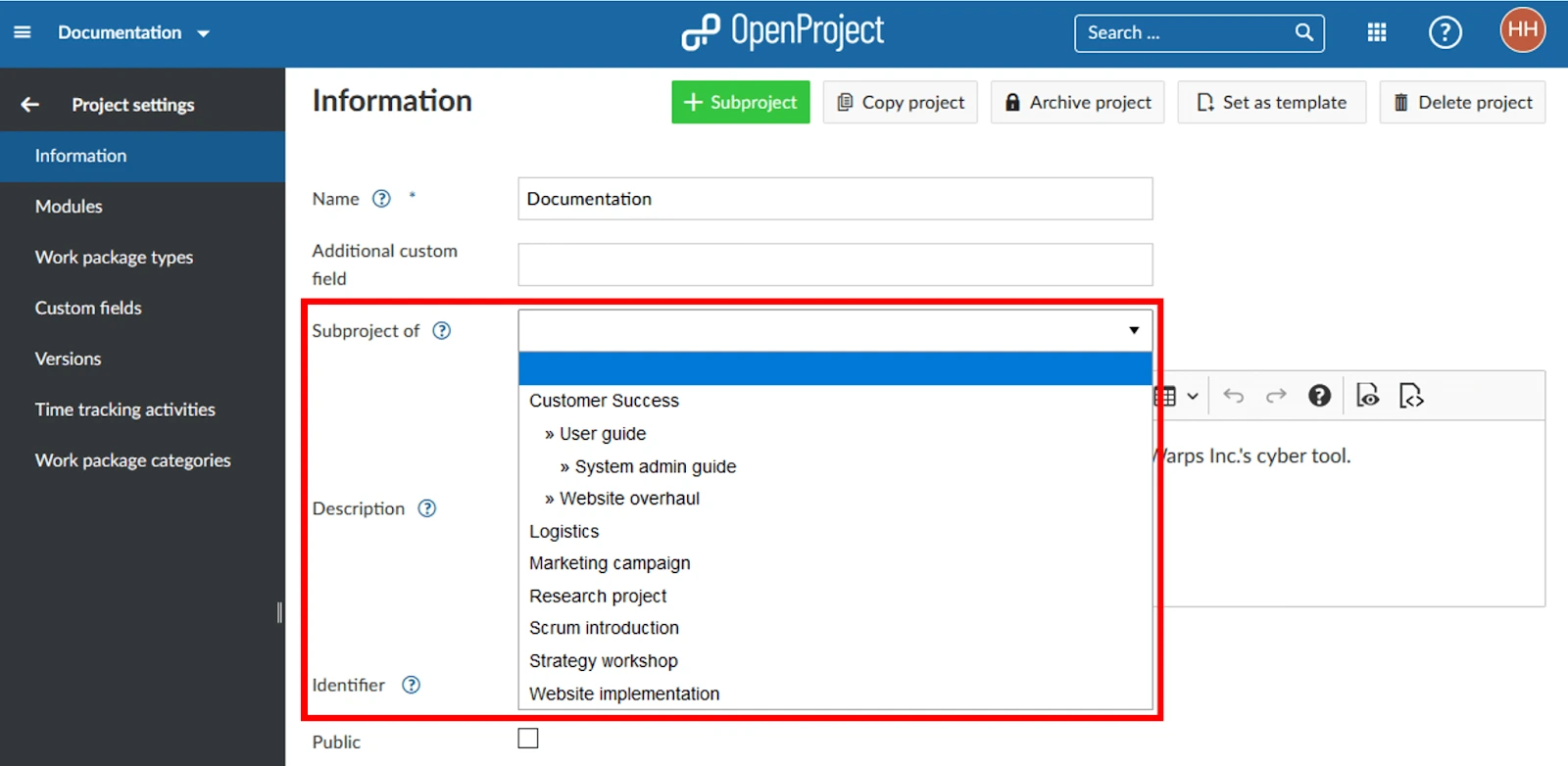 ou can build a structure of projects using parent projects and sub-projects. A project can represent an organizational unit of a company, e.g. to have issues separated:
Company (Parent project)

Marketing (Sub-project)
Sales
Human resources
IT
Further, every project can be for overarching teams working on one topic or customer.
However, you are breaking down the project in a document editor. There is no specific graph for that, except timeline, kanban, and scrum.
This project management tool at first sight looks similar to other WBS tools. GoodDay allows you to set up multiple workspaces to organize projects and assign tasks to team members.
Now, because of its Kanban board, timeline, and tree-like hierarchy we could say that it helps you visualize the progress great. However, it doesn't offer a specific WBS chart like the one we have been seeing in other apps.
Here comes the photo of GoodDays appearance: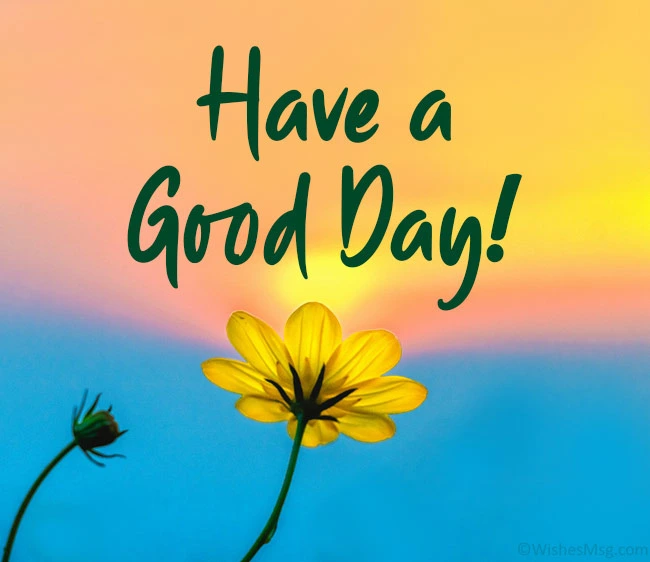 Just kidding. It is below.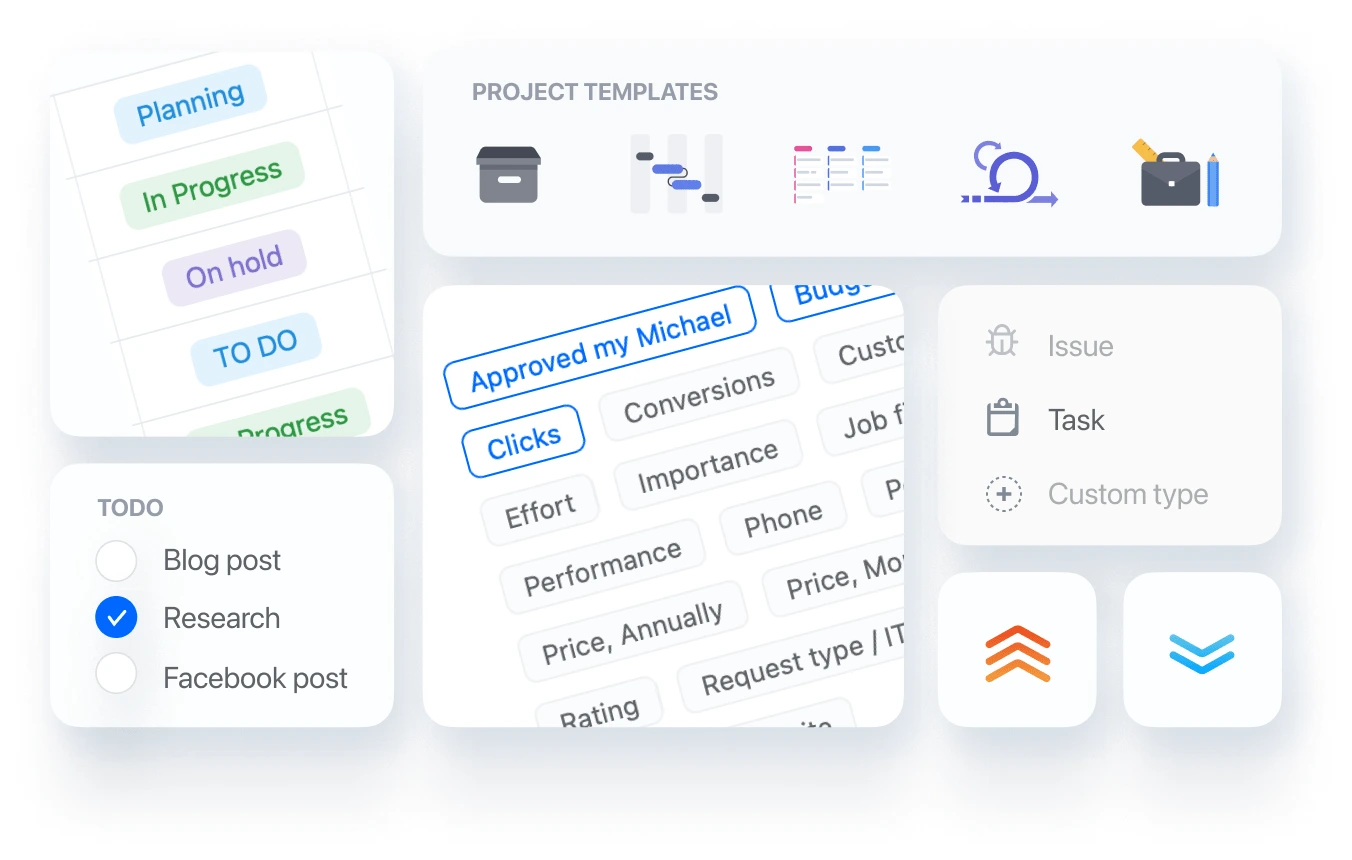 What it does is to show folders and projects with hierarchy, unlike JadeALM that shows you a hierarchy of specific tasks in the three-like hierarchy. It has one more way to organize user stories and backlog – in timeline and kanban board. The difference is that GoodDay calls its Kanban board "Agile board".
GoodDay can also generate automatic reports, boost business intelligence, track time, and offer email and calendar integrations.
Easy Projects is a PM tool that helps teams manage multiple projects. Again, it is a project management app that has some features for visualizing data but doesn't provide WBS like the one we showed before.
To visualize data, it offers Gantt charts. For the bigger picture, like the one that WBS provides, you need to use another tool – Birdview. With help of both of the tools, you should be able to create your WBS.
The tool also enables you to share files, leave comments, tag users and send approval requests. It aggregates all project data in one centralized location. In the next step, this real-time data is immediately available to all stakeholders.
Upheave was working on building new generation project management called JadeALM. JadeALM is both WBS and the project management app. Unline many WBS tools that gives you features to create WBS and then doesnt offer more task-related features, JadeALM has it both.
Let's dive into JadeALM – Project Management Tool with WBS
As soon as you open the app, you will see the document editor.
Now what it does for you is – immediately synchronize information from the editor to the WBS! Yes, that's right! It creates WBS automatically from the headlines you typed in the editor. Not only that it saves your time to create an actual WBS chart, but also keeps all upcoming changes in project structure in sync.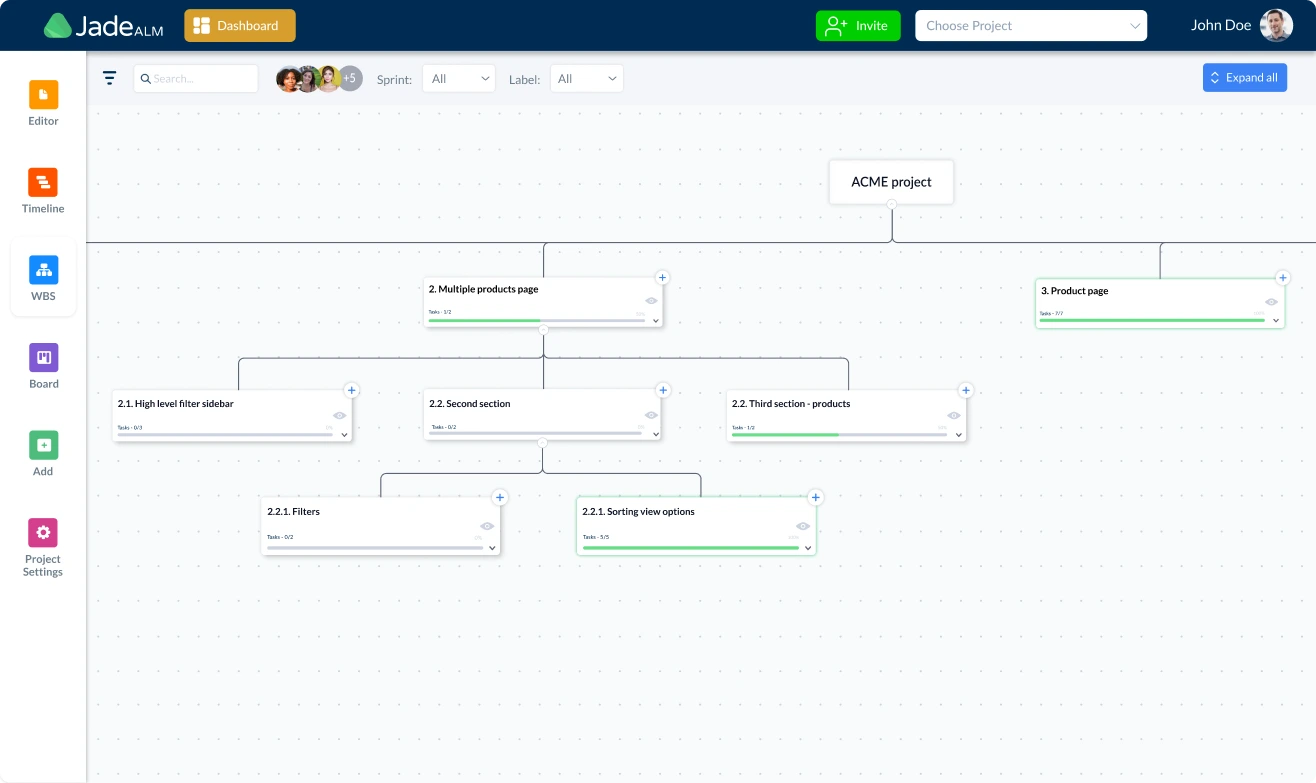 Here is important to notice that WBS doesn't equal project plan. Even though JadeALM helps you to keep them in sync like they are the same piece of the project, they differentiate. There is also the project charter which is different from both of them.
Which project management tools have WBS – Wrap up
Work Breakdown Structure or WBS is indeed a feature that helps development teams a lot. But not only that it is crucial for IT teams, but also can be very useful for other kinds of projects. With this in mind, before deciding what PM tool to use, you will want to think about which project management tools have WBS.
We hope it was helpful. For any further questions, feel free to reach us!